november 21, 2012
What's next for transit along the I-70, Rock Island and U.S. 71 corridors?
attend an open house on nov. 27
We encourage you to stop by an interactive open house next week to learn about recommendations for enhancing transit service in the I-70 and Rock Island corridors. The study team is seeking your feedback on the recommendations, as well as the most recent analysis on transit service options for the U.S. 71/Bruce R. Watkins corridor.

OPEN HOUSE
Tuesday, Nov. 27, 2012 • 4–6 p.m.
River Market Event Place
140 Walnut, Kansas City, MO 64106
Metro routes: Main Street MAX, 110, 142, 173
Open house flier

We hope you'll be able to imagine a region-wide transit system by learning about various other initiatives including the downtown streetcar project and bicycle and pedestrian activities.
Prizes and giveaways will be provided by generous area River Market businesses.
Jackson County Commuter Corridors study website
U.S. 71 Transit Study website


---
Student transit pass is one of 2012 Sustainable Success Stories
awards event on Nov. 30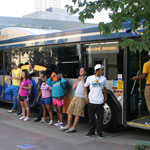 The Mid-America Regional Council is honoring local projects or programs that set an example for creating sustainable places in the metro, including the U-Pass transit initiative at the University of Missouri–Kansas City.
This popular program, which began in the fall of 2011, allows UMKC students to ride Metro buses by swiping their student ID. The service is paid for by a universal student fee, which is cheaper than buying a monthly bus pass. UMKC students have helped grow the Metro's ridership and reduce on-campus parking demand. U-Pass is operated in partnership with the Kansas City Area Transportation Authority.
Come learn more about U-Pass and the rest of this year's Sustainable Success Stories honorees.
2012 Sustainable Success Stories Event
Friday, Nov. 30, 2012 • 8–10:30 a.m.
Kauffman Foundation Conference Center
4801 Rockhill Rd., Kansas City, Mo.
Free refreshments
Sustainable Success Stories is part of an ongoing community dialogue focused on building a better understanding of sustainable practices that have the potential to transform our community into "America's Green Region." By sharing local successes and challenges, we can enable community partners to learn about and replicate locally tailored, high-impact sustainability practices.
share ideas

Imagine Transit


Sustainable Places

calendar
November 28
Kansas City Area Transportation Authority Board of Commissioners, 12 p.m.
December 5
Mid-America Regional Council Transit Committee, 10:30 a.m.
December 12
Johnson County Transportation Council, 7 a.m.
December 12
Mid-America Regional Council Special Transportation-Job Access Partnership, 9 a.m.