Smart Moves plan update for 2017

The RideKC Smart Moves 3.0 Regional Transit Plan will serve as an update to Smart Moves, the Kansas City region's current long-range transit plan, and will expand on its scope.
Learn more about the plan at a public meeting
MARC is hosting five public meetings around the region to share and discuss the Smart Moves 3.0 Regional Transit and Mobility plan. Each meeting will include a short presentation and open house. Join the conversation.
Work on this new plan began in the spring of 2015 as a collaboration among MARC and the region's RideKC transit providers — the Kansas City Area Transportation Authority (KCATA), Unified Government Transit (UGT), Johnson County, the city of Independence and the Kansas City Streetcar Authority. The Smart Moves 3.0 Plan will paint a long-term vision for transit and include a blueprint for how to achieve this vision through an integrated package of investments designed to make transit a real choice for our region's residents and visitors. Additionally, this new plan will include a specific short-range implementation plan that will help our region double the number of jobs accessible by transit in the region.
Last summer, transit planners working on the plan asked area residents how transit could better serve their communities. They heard several common themes through a series of public meetings, pop-up engagements and surveys. Residents want better connections to jobs, particularly in suburban areas. This could be achieved by increasing service hours on evenings and weekends, making transfers easier and connecting riders to other types of transportation services.
MARC and the RideKC transit agency partners have taken this feedback into consideration while creating Smart Moves 3.0, a plan that will guide system development during the next 20 years.
Smart Moves 3.0:
Focuses on more frequent service on key corridors.
Creates a network of mobility hubs where transit and on-demand mobility services connect and could attract new development.
Delivers new innovations in mobility.
Enables placemaking and vibrant communities.
Transit Stakeholder Forum regarding the Future of Smart Moves
Kansas City Region's Long-Range Transit Vision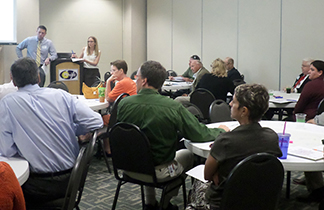 Hosted by the city of Mission, Kansas
On Sept. 25, more than two dozen area stakeholders and citizens concerned about transit issues participated in the latest Transit Stakeholder Forum about the furture of the SmartMoves Regional Transit Vision. The forum was held at the Sylvester Powell Jr. Community Center, just down the street from the Mission Transit Center.
Transportation Planner Karen Clawson presented a background of the SmartMoves plan. SmartMoves is not a specific plan. It is more of a vision for regional connection that was first devevelop between 2002 and 2005 after extension public engagement. Residents from all over the region helped to identify priority corridors and consider a mix of transportation options. This vision was last updated in 2008. And in this phase of revision, it will work hand-in-hand with KC Workforce Connex, a new 18-month TIGER-funded study that will look to double transit connections to employment in our region.
Shawn Strate of Johnson County Transit spoke to the group about The JO services. The JO operates 15 fixed routes and just released new route maps. After two years of its bus-on-shoulder program, he was glad to report no safety incidents. Johnson County Transit is one of MARC's partners in the KC Workforce Connex study.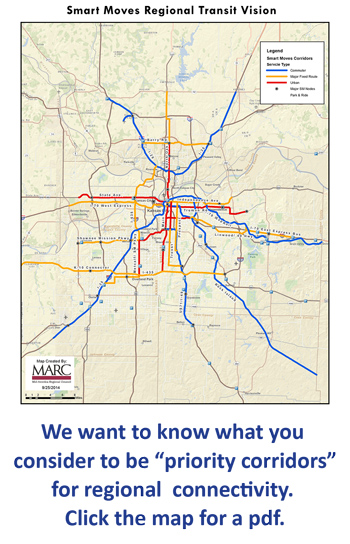 Later in the session, participants considered and discussed the following questions:
What should be our collective vision for transit in the Kansas City region?


What are the strengths and weaknesses of the existing transit systerm?


What are the strenghts and weakness of the current SmartMoves plan?


What regional projects would you like to see pursued, as part of the plan update?
If you were unable to attend and wish to complete the event survey or submit a comment, send an email to smartmoves@marc.org.
Transit Stakeholder Forum is sponsored by the Mid-America Regional Council and Kansas City Area Transportation Authority in partnership with Johnson County Transit, Indebus and Unified Government Transit.

Kansas City region received $1.2 million in TIGER grant from U.S. DOT
Planning grant will focus on improving transit access to employment centers
The Kansas City region will receive a $1.2 million planning grant for an initiative to double the number of jobs accessible by public transit over the next 10 years. The award is one of 72 grants totaling $600 million announced today by the U.S. Department of Transportation as part of its 2014 TIGER (Transportation Investment Generating Economic Recovery) grant program.
The Mid-America Regional Council applied for the grant on behalf of the Regional Transit Coordinating Council, in partnership with the area's four transit agencies — the Kansas City Area Transportation Authority, Johnson County Transit, Unified Government Transit and Indebus.

A recent study by the Brookings Institution found that only 18 percent of jobs in the region are reachable via transit in 90 minutes or less — ranking the Kansas City region 90th of the 100 largest metros.
The "KC Workforce Connex" initiative will build on work completed over the past four years with grants from an earlier round of TIGER funding and a Sustainable Communities regional planning grant from the U.S. Department of Housing and Urban Development.
Grant partners will use a four-part strategy to strengthen transit connections between people and jobs.
Identify high-priority areas where improvements will have the most impact.
Expand the region's existing corridor framework, connecting to more suburban employment centers.
Engage employers and community organizations in planning through extensive public engagement and outreach.
Use technical tools to evaluate specific strategies and recommendations in targeted, high-impact areas.
The  planning initiative is expected to begin in 2015 and take 18 months to complete.
Funding recommendations approved by TTPC
Sept. 16, 2014
During the September meeting of the Total Transportation Policy Committee, a list of funding recommendations was presented to the committee, and approved.
Funding recommendations include Kansas and Missouri projects recommended for funding under the 2017–2018 Surface Transportation Program funding, 2015–2018 Congestion Mitigation/Air Quality Program funding and 2015–2018 Transportation Alternative Program. These projects have been added to the 4th Quarter Amendment to the Transportation Improvement Program, or TIP, that is available for public review and comment until Thursday, Oct. 2.
Many transit projects will be funded across our region thanks to this round of funding. There were be more clean and alternative fuel vehicles; clean vehicle conversions; and work towards a regional transit brand as a result of planned projects.